You can also listen to the article here:
A rising tide lifts all boats – unless they crash. Netflix service was down last week in Europe and the US, Twitch experienced an outage this week. While infrastructure providers are struggling to keep up, online streaming consumption is growing rapidly. The new circumstances have opened up a significant amount of spare time: average American spends 54min commuting every day in addition to the time socializing in restaurants, bars and going out, so it could all be dedicated to streaming more content.
Streaming services growing faster than ever
Media consumption is estimated to go up by 60% (by Nielsen) and Comcast recently reported 38% increase in streaming video consumption since the beginning of March. The total number of minutes streamed to TV has increased by 85%, driven by connected TVs.
The biggest change comes from daytime viewing increase with a 40% jump between 10am and 5pm.
Content providers in a hurry to launch and grow direct-to-consumer OTT (over-the-top) services as Pay-TV and traditional distribution methods are under scrutiny by the changing consumer behaviour.
No more HD and 4K as the European network operators and regulators have asked the major streaming platforms to reduce bandwidth by 25%, which Youtube, Netflix, Facebook, Disney+ and others have adjusted for. US providers incl. Comcast and AT&T noted that their networks are holding up just fine.
SVOD skyrocketing
Subscription-based video-on-demand platforms are skyrocketing with 41% week-over-week increase in viewing for Netflix and Amazon Prime Video.
The seven largest SVOD services saw an average 75% increase in daily signups (excl. Amazon Video), with Disney+ up more than 225% in the first week of the shutdown, and 110% in the second week. Apple TV+, Disney+, Hulu subscriptions far exceeding Netflix subscriber growth and HBO growing at the same level.
This is also driven by the plummeting acquisition cost due to reduced advertising rates (which had previously been prohibiting growth).
HBO claims the consumption of its OTT service HBO Now is up 40%.
For Hulu, binge-viewing has grown more than 25% over the past two weeks, while live news viewing on has gone up 40% vs the prior two weeks.
Social and AVOD growing even faster
Free advertising-supported services are growing even faster. According to Comcast,voice searches for "free movies" are up 50% and almost a 100% up according to Google Trends.
Tubi (acquired by Fox for reported $440M), free movies and TV platform has seen a 50% spike in new viewers during the last two weeks and a 22% hike in viewing hours.
PlutoTV (acquired by Viacom for $340M) claims daily active users and total viewing hours are up double digits with total viewing hours on new channels up by 74% and news 50%.
While the overall ad spend is significantly down, AVOD platforms like Hulu, Pluto, Roku and Direct TV could see ad spending grow 42 %, to $2.6 billion.
In perspective, all of these platforms pale in comparison to the size of YouTube is already the largest AVOD platform in the World taking up 37% of the mobile internet traffic (vs Netflix 2.4%). At that scale, YouTube's ad traffic is up 20% (viewership likely even more). Some networks have seen 50% month-over-month growth. YouTube Gaming has grown 15% and Twitch 10% in viewership. There was also a surge in engagement on YouTube videos for both global news and local news up 50% in the past 30 days.
Facebook (10.9% mobile internet traffic) has become the platform for local news – avg views per video for local news outlets on Facebook were up 247% from Feb. 21 to March 23 vs 30 days prior. Facebook has released Live for a wider audience and seen 50% increase in usage.
Twitter posted even bigger gains, with viewer engagement up 196%.
Snapchat reports all-time high for snaps sent between friends and Snap games, 25% increase in AR lens engagements.
TikTok, however, might have gained the most with 113M app downloads in February, up 96% year-over-year and revenue up 784% year-over-year.
Not every platform is growing
Linear TV meanwhile has only seen a 7% increase in viewing, while the primetime ratings for Adults 18-49 from March 15-26 are actually down 3% (growth only driven by the elderly). The generational divide is widening as kids screen time is rapidly moving to mobile and tablet consumption.
Live sports accounted for 89% of the 100-most watched broadcasts in 2018. AT&T and Disney paid around $24 billion to ensure they have contracts with the NBA in a nine-year deal. NBC, CBS, and Fox are paying $3.1 billion for Sunday night NFL. ESPN is paying around $1.9 billion for Monday Night Football. Tokyo Olympics itself was worth $1.25 billion in ad sales for NBC.
One of the top sports streaming service DAZN has already hinted at difficulties telling league partners it'll not be paying rights fees.
FuboTV, another sports streaming platform has pivoted to news and entertainment content and merged with virtual entertainment technology company FaceBank Group.
Beyond sports most scripted and film productions have been suspended. Warner Bros. halting production on 70+ TV series, Netflix suspending all scripted series, late-night talk shows (a major profit centre for broadcasters) stopped.
Reduction in supply could potentially cause a decline in demand as well, while independent creators are producing video from home every day.
Competition intensifies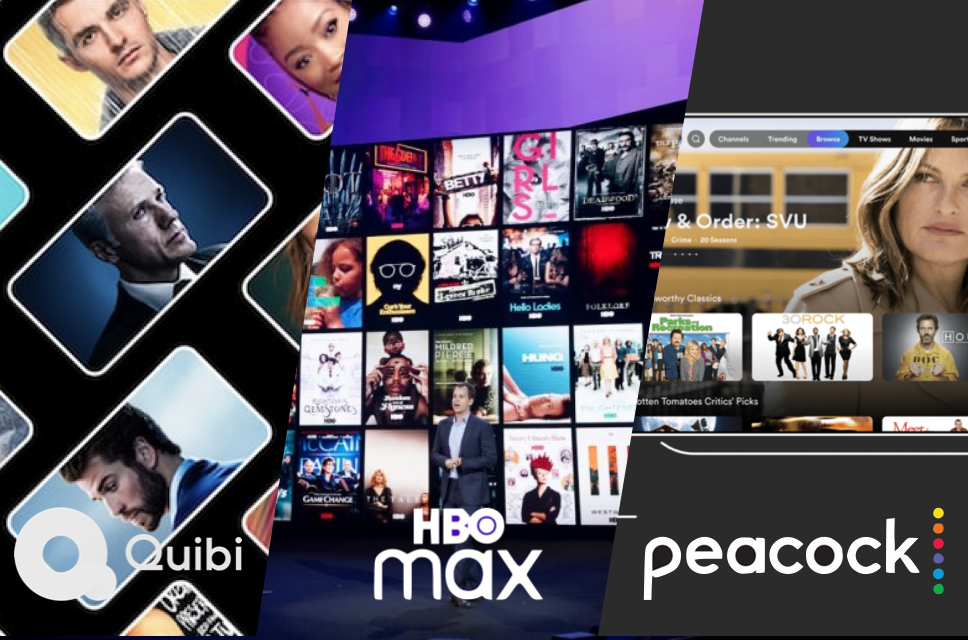 With the fast growth, newcomers are looking to launch even with a reduced catalogue due to the suspended productions. Amazon Prime Video, Quibi, HBO Now have all increased their ad budgets between 20-40% across platforms.
Quibi going forward with Apr 6th launch and has already noted that "advertising sales wouldn't cover the costs and they've got to grow paying subscribers at a high rate"
Peacock will be launching Apr 15th to Comcast subscribers and the rest of the public in July.
HBO Max is expected to be released in unspecified date in May.
Existing players are platforms pushing forward in their international expansion as well with Disney+ launching in Europe and India, Hulu coming to Europe 2021.
Temporary boost or new baseline
Based on previous catastrophes (at a smaller scale) incl hurricane Harvey and snowpocalypse in New York, Netflix viewership did return to the pre-existing levels after the boost.
In addition to fast-growing job losses and recession on its way, it is expected that entertainment will be one of the first items to be cut.
Would consumers choose free AVOD platforms instead of the paid SVOD platforms? Or will consumers just cut the cord for Pay-TV (currently spending on avg $107 per month) and continue with OTT platforms.
Moreover, all other revenue streams for content owners outside of OTT services have been significantly cut by the slashed TV advertising budgets, closing theme parks, reduced availability and consumer spend on merchandise.
It is a unique opportunity and an interesting paradox where audience demand and engagement are growing faster than ever, while monetisation rates are declining. For upcoming OTT players this a good time to double down on growth (incl. paid) with future potential for better monetisation with a caveat that it might just be a temporary surge and we might be returning to the previous baseline. Let's discuss on Twitter and LinkedIn.
If you'd like to explore how consumer behaviour has changed across industries, please see these observations bringing it all together. Otherwise, I recently also wrote about virtual hangouts – how social becomes truly social here.