You can also listen to the article here:
If you're a brand marketer, strategist, advertiser, content creator — this is for you. I've been tracking COVID-19 changes and responses from the industry affecting many business strategies and growth. Not to mention the impact on people's well-being, without which, all of the below would become irrelevant. Remember to always take care of each other first and foremost!
Shelter in place — What's not growing?
Cities have stopped moving with Citymapper mobility index down from 70–80% to 5–8% in most larger cities around the World. Uber rides are down by 60–70% in cities hit hardest. Check out your own city and country here indexed by Google Maps.
Offices close, businesses moving employees to work-from-home (if possible, according to Bureau of Labour Statistics only 29% can work remotely), while co-working spaces like WeWork remain open (only closed for cleaning after confirmed cases).
Restaurant bookings stop around the world (Opentable tracking bookings).
Retail storesclosed, apart from essentials incl grocery stores, pharmacies and gas stations. Cutting store hours and limiting the number of customers. Many sold out of essential supplies incl toilet paper, water, frozen foods.
Fitness clubsclosed nation-wide.
Live events incl. conferences, concerts, music festivals cancelled, postponed at least until Aug/Sept 2020 (a good list by Aiste).
Sports leagues & tournaments suspended incl NBA, NHL, NFL, MLB, MLS, PGA, Premier League, UEFA 2020. Even Tokyo Olympics postponed till next year (NBC had sold record $1.25B in ads).
Theatres ordered to be closed all around by the government incl Cinemark, AMC and others.
Productions suspended and film releases delayed incl. Warner Bros. halting production on 70+ TV series, Netflix suspending all scripted series, late-night talk shows (a major profit centre for broadcasters) stopped.
Consumer spending is down amid fears of job loss (59% US jobs are paid hourly) and recession on its way (Goldman Sachs estimating biggest contraction on record, -24% economic output decline in Q2 2020). Many US states report staggering rise in jobless claims up 150% week-over-week.
Advertising budgets cut by -0.4pp according to eMarketer estimates (imho quite optimistic). Survey also found that in China 7% stopped advertising altogether and 14% moved budgets from offline to online.
Consumers adapting — What's growing?
Online ordering for delivery and pickup growing rapidly, accelerating the number of restaurants offering these options (previously 48.5% order were off-premise). Amazon looking to hire 100,000 and Walmart 150,000 workers to help with the demand and pay $550M in bonuses. Other delivery companies further accelerating gig-economy workers growth (+78% from 2017), Uber Eats recorded 10% increase in sales and 30% increase in rider signups. Instacart also sees 105% increase in week-ove-week downloads. While convenience online ordering is seeing a steep growth, fashion, luxury and others are down (Retail Pulse by Within).
Streaming platforms are growing faster than ever: SVOD platforms like Disney+ is growing 300% faster week-over-week, Netflix 47%, HBO Now 90% and Showtime 78% (by Forbes). New platforms expected to launch soon incl. AT&T's HBO Max (April), NBCUniversal's Peacock (May) and Quibi (April 6). AVOD platforms like Hulu, Pluto, Roku and Direct TV could see ad spending grow 42 %, to $2.6 billion (in China, 14% of advertisers moved advertising budgets from offline to online). Nielsen estimates total media consumption rise by 60% due to home confinement.
DTC content distribution, Disney releasing Frozen 2 three months early on Disney+, and Pixar's Onward for digital purchase just weeks after theatrical release (on Disney+ in April). NBCU's Universal breaking theatrical windows and making movies (The Hunt, The Invisible Man, Trolls World Tour) available same time as theatres for $19.99, NY Metropolitan Opera streaming shows for free.
Independent creators and home productions on the rise from self-producing mainstream celebrities e.g. Miley Cyrus Bright Minded Show, musicians e.g. Coldplay #togetherathome, late-night hosts Seth Meyers, athletes e.g. Trae Young #inhousechallenge to Instagram fitness trainers, reviewers and vloggers.
Virtual product releases. Sony held the Playstation 5 release online, Apple also cancelled their press event and released new MacBook Air and iPad Pro virtually.
Gaming is setting new records with Steam having more than 22 million players logging on (by Polygon).
Esports streaming viewership is up on Twitch 10% and YouTube Gaming 15%. Formula 1, Nascar, NBA, soccer players start competing virtually through live streams.
Online news have skyrocketed according to Parse.ly (measurement platform used by Bloomberg, WSJ, Sky, NBC) has seen almost 80% growth in page views and 51% increase daily news app downloads.
Home fitness on the rise with home gym equipment (Peloton) and fitness apps seeing rapid growth, Daily Burn has had as much as 268% year-over-year increase in membership signups. The Body Coach TV from the UK reached more than 954,000 concurrent live-stream viewers for his recent workout on YouTube. In addition to many other home workout programs.
Online education & conferences. For example, Boma is organising a virtual summit with Facebook and Zoom on COVID-19 with 20h live expert discussions and debate. Coursera offering free classes from top universities. Zoom is giving their video conferencing tools away for free to schools. Google launches Teach From Home toolkit for teachers, Learn@Home from YouTube and financial support for remote learners.
Remote tools for collaboration powering all of the above. For example, Microsoft Teams jumping from 32 to 44 million daily active users in one week, Slack adding 7,000 customers in one month.
Virtual hangouts with Netflix Party Chrome plugin to watch Netflix movies together with friends saw a 5x growth in searches, Instagram launching IGTV co-viewing during video chats, Squad an app to watch content together reaching 100K downloads on Android, Bunch blending group games with video chat and Houseparty hitting #1 in 17 countries on the App Store. Plus many others including Duo, Skype, Messenger, WhatsApp etc. Facebook and Instagram messaging seeing 50% month-over-month increase in usage and group calls in Italy increasing 1000%.
Mobile apps overall saw vast growth in China by installs jumping more than 40% compared to 2019 average
VR Oculus Quest headsets sold out on their website (as of March 23, 2020) and as a bonus check out this Corona-Beatsaber-Ninja experience.
Recalibrate and position for growth — what to do?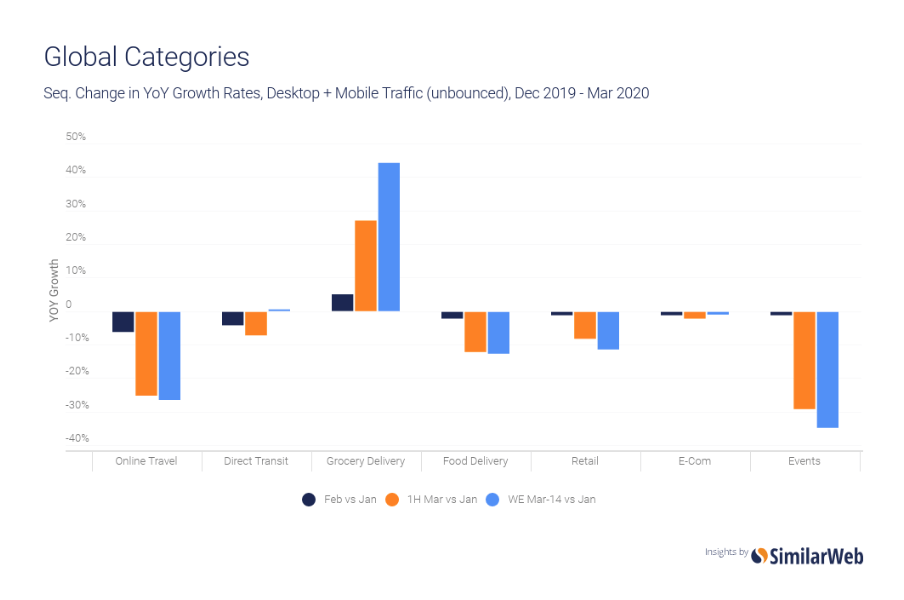 Many of the changes outlined are not necessarily new, but accelerated by the current situation and keep in mind that all changes bring new opportunities as the saying goes 'Nature abhors a vacuum'. Hope this got your creative juices flowing to make your business more resilient and agile by refocusing and investing in areas of growth. This might just be what your business needs to survive and adjust to the changing reality. According to HBR, in China, companies being most agile to adjust their marketing and sales strategy saw a year of year growth of 200% during the pandemic. In addition, Nike in China reported more than a 30% year-over-year growth in online sales (through Feb 29), while the total sales in the country still declined by -5%. This is certainly not a time to capitalize, but an opportunity to recalibrate and reposition for growth.